Products for analysis in the areas of bacteriology, immunology, coproparasitology, tumor markers, endocrinology, allergies, toxicology, among others.
These systems are used for the handling and preparation of tubes with specimens to be tested. Each module typically includes several units (e.g., decapsulators, sorters, centrifuges, analyzers, coolers) that may be standard clinical laboratory equipment, or more frequently, units specially designed for the automation system.
High, fully automated, with capacity to store up to 800 tubes in initial load, accepts up to 8 different types of tubes, with a speed of 10 seconds / patient, when processing 4 tubes. Can handle tubes 12-18 mm diameter, 75-100 mm long.
Low, automated, with capacity to store up to 240 tubes in initial load and with a throughput of 5 seconds/patient; processes up to 180 trays (720 tubes) per hour, accepts up to 6 types of tubes. Can handle tubes 12-18 mm diameter, 75-100 mm long.
For various tubes, of different types and sizes. Dynamic, automated and integrated centrifugation. Ideal for fast turnaround time of results.
The best system for the best automated sample handling, enabling the processing of sample tubes from pre-centrifugation. The optional ChemXpress upgrade and its LX connection modules order tubes directly to the added LX 20 for analysis, then sort the tubes for storage or further analysis.
The hemogram is the most frequently requested test in clinical laboratories and one of the most important for the evaluation of a patient. Our instruments help you to have your studies in time and form. Get the results of a complete Biometry in less than 40 seconds, including a series of signals that allow immediate identification of hematological alterations of the patient.
It is the revolutionary technological innovation for morphological identification in blood cytometry, offering the latest in high definition cell analysis and automation.
It is a high performance equipment, doing 120 tests per hour, fully automated. Creates reports of nucleated erythrocytes in percentage and absolute number, automatic correction of leukocytes, as part of the blood biometry report. Includes autoloader for 144 samples at the same time.
Ideal equipment for medium-sized laboratories with growth tendency. Hermetic biometry process with a throughput of 100 patients per hour. Leukocyte differential of 5 populations and report of atypical lymphocytes and immature cells, supporting the patient's diagnosis.
It is an automatic apparatus used in the determination of the erythrocyte sedimentation rate directly from the primary tube, with 190 samples per hour, using racks of hematological analyzers, with results in 30 minutes.
Products that assist tests such as prothrombin or partial thromboplastin time, fibrinogen and specialized tests such as coagulation factors, confirmatory lupus anticoagulant.
This system, which has the broadest profile of special routine tests, allows for less to less interaction between the equipment and the doctor, with maximum efficiency and high volume capacity.
A system of excellence, offering quality and versatility, creating 60 tests in one hour; quagulometric, chromogenic and immunological; contains bar code reader and touch screen display.
It is the smallest, but combines with all high-level tools. It has a mechanical-optical system that allows the reading of weak, icteric and lipemic clots, making this system one of the safest, most precise and accurate.
It is unique in the country and has a complete agonist profile, specialized consultancy and the most complete software. Its system determines the aggregation in platelet-rich plasma and whole blood, thus helping to generate the complete agonist profile on its functionality in platelets.
It offers a great solution for small spaces. It includes patented technology of lyophilized reagents in single cup presentation, offering the necessary safety, eliminating reagent wastage. It has immunofluorescence technology, presentation of reagents in individual tests, processes up to 36 samples per hour and issues results in 20 minutes.
It is the option for laboratories that require precision and reliability in the determination of their studies in thyroid profiles, gynecological, tumor markers, viral panel (hepatitis and HIV), anemia, among others, offering total automation and accessibility to process samples.
Agile, fast and automated. It has the capacity to process 400 tests per hour, which makes it ideal for laboratories with a high volume of hormone tests. Includes an aliquot storage unit to keep up to 288 samples refrigerated. Perfect for thyroid profiling, tumor markers, cardiac, bone, viral and infectious panel.
The necessary equipment for the proper mediation processes of chemical components in blood and urine. For fluid tests such as: cholesterol, glucose, triglycerides, urea nitrogen tests, among others.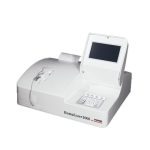 It is the semi-automated benchtop equipment with integrated memory and printer, liquid crystal display, incubator, quality control and Levey-Jennings charts.
Automated benchtop unit with semi-permanent reaction cuvettes, automatic cuvette washing, 30 reagent positions and 60 sample positions, refrigeration and integrated quality control.
This machine is high performance, has the capacity to create 990 tests per hour, with large capacity of reagents, increasing the productivity of laboratories. It has a closed tube option, reducing exposure to biological risks.
This instrument increases laboratory productivity with a minimum amount of resources, designed to deliver results when they are required. It produces 1440 tests per hour and has the largest reagent capacity on board. It has a closed tube option, reducing exposure to biohazards. It does not require daily maintenance.
Instruments for effective sampling and studies of bacteria and eukaryotes.
It is an automatic plate seeder that standardizes microbiological processes, optimizes time and reduces investment time in seeding.
It is an automated slide stainer that standardizes staining processes and offers speed and reagent savings.
It is an automated staining system for mycobacteria, with advantages such as standardization of processes, high quality reagents, detection of levels in each bath and designs, traceability of each cycle and reagents used. It has features such as closed system, four staining stations and one automatic slide washing and drying station.
It is the bacterial identification equipment par excellence, with mass spectrometry technology, wide range of microorganism identification, and bacterial identification results in minutes.
It is the automated equipment for medium and high yield of bacterial susceptibility. It identifies anaerobic and fastidious microorganisms, without additional use of any reagent, with simple and standardized operation.
Efficient blood sampling and results within 6 days for the detection of metabolic diseases in newborns and their early intervention.
Automatically punches the sample into the plate (2 simultaneous plates and three punch sizes), controlled by a foot pedal.
It drills 9 plates simultaneously, with four different sizes, ergonomic and includes a camera for real-time drilling monitoring.
Useful for fluorescence and immunofluorescence test readings in record time. It has the protocols included for the determination of each assay. It is very easy to use.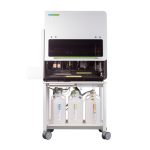 Automated system for immunofluorometry in record time, fully automated, up to 8 different tests and with software for results calculation and quality control.
One of the best systems on the market for neonatal screening, it reduces test execution steps, reduces risk of error, and executes complete tests in optimal time. It has an easy-to-use screen and bar code.
It is the most complete system for the detection of hemoglobinopathies, with endpoint method, patient identification and image, highly sensitive for the detection of low hemoglobin levels. With user-friendly software that makes it very easy to use.
Advanced triple quadrupole technology for maximum efficiency, analysis of more than 30 analytes (amino acids and acylcarnitines) in less than 2 minutes. Software to evaluate out-of-range analyte results. Best choice in tandem mass spectrometry systems.